ICOM SAT100M Mobile Satellite Radio
True World-wide Communication even in the most remote areas

Built-in Bluetooth and GPS Receiver
1500mW Powerful Audio

Highest Security with AES Encryption
Compatible with other Iridium® PTT devices while in Radio mode

ICOM SAT100M At-A-Glance
Icom's IC-SAT100M allows users around the world to communicate with a group of PTT radios at the push of a button. To do this, the IC-SAT100 utilizes Iridium® satellite network covering the earth including both poles providing wide area global communication anywhere on the planet.
Icom's IC-SAT100M radios uses SATELLITE PTT (Push-To-Talk), which is a two-way radio system using the Iridium® satellite network. This network allows you to use the IC-SAT100 in remote, isolated areas without mobile phones or landline network infrastructure or if terrestrial network infrastructure is rendered unusable by human or natural disasters.
The SAT100M is designed for fixed mount operations. Unlike handheld satellite radios, users with the IC-SAT100M do not need to stay outside for a clear view of the sky for a stable communication connection. This global satellite mobile radio's design easily provides coverage from vehicle to in-building use. The IC-SAT100M is backed by the Iridium® satellite network, covering the earth including both poles for a true wide area global communication solution.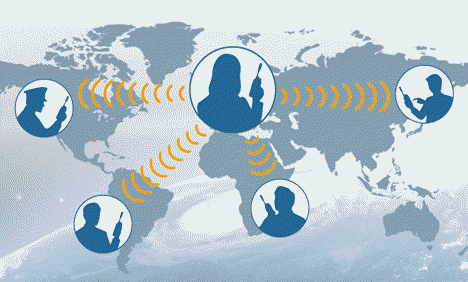 1-to-Many Global Communications
Unlike satellite phones, IC-SAT100M users can immediately start talking to all the radios in the same talkgroup, with just a push of the transmit (PTT) button.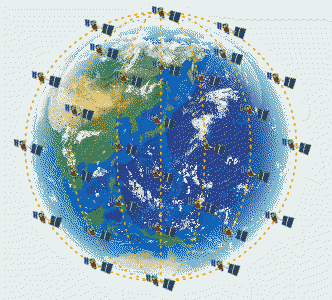 World-Wide Coverage with Iridium® Satellites
Using 66 Low Earth Orbit (LEO) Iridium® satellites, the IC-SAT100 provides low-latency communication, and broader, more reliable network coverage, compared to Geosynchronous Equatorial Orbit (GEO) satellites.
The Iridium® satellite network covers the entire earth, including both poles, and can provide wide area global communications anywhere on the planet*.
* Depending on the country or region, carrying and/or use of the IC-SAT100 may be prohibited.
Emergency Call Function
The 'Orange' key on the top of the radio is an emergency button. You can transmit an emergency call via a specific talk group by pushing and holding down the button, just like a PMR/LMR radio system.
Waterproof, Dust-Tight & Durable Antenna/RF Unit
The IC-SAT100M antenna provides IP67 waterproofing (1 m depth of water for 30 minutes) and dust-tight protection, making it ideal for use in harsh outdoor environments. The radio also meets MIL-STD 810G specifications. The operating temperature range is from –30°C to +60°C (–22 °F to 140 °F).
Secure Communications
The IC-SAT100M provides one of the highest levels of secure conversations with AES 256-bit encryption.

1500 mW Powerful Audio
1500 mW audio delivered from the internal speaker provides loud and clear communication, even in noisy environments.
Conventional Radios & IP Phones Interconnection
With a VE-PG4 RoIP gateway, the IC-SAT100M can interconnect with an IP phone, IP, LTE, IDAS digital* and analog transceivers. (Planned feature)
*Type-D multi-site trunking and conventional systems.
SAT100M Iridium Satellite Service Plans

Service is configured through Iridium Command Center
Basic Service Plans
There are 2 basic service plans:
3 Month Plan
12 Month Plan
Rates on the 3 month plan are higher than on the 12 month plan. See rate attachment under the "Downloads" tab.
Talk Group Coverage

You determine the coverage areas for each SAT100 radio by defining the Talk Groups for each unit.

15 Talk Groups maximum per radio.

The Talk Group's size can be changed at anytime utilizing the Iridium Command Center.
The coverage area's configuration is dynamic and can be reconfigured quickly with access to the Iridium Command Center Web Page.

No restrictions of the Talk Group's location. * some restrictions in areas due to national security interests

The region with a rectangle must have sides between 150 km, and 1500 km.
The region with a circle must be larger than 75 km.
Each Talk Group can be subdivided into a maximum of 10 regions.
Talk Groups can be a circle, oval, square, or rectangle.
Talk Groups not to exceed the area of the purchased package.
For Talk Group Sizes & Plans see attachment under the "Downloads" tab.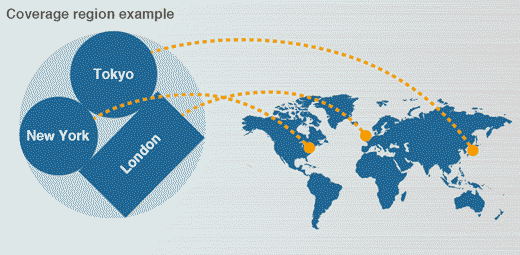 SAT100 Other Features
Ready for harsh environments. Water, shock, dust proof with MIL-STD 810G & IP67 waterproof rating
Operates 100% of the globe
Built-in emergency key
Short Data Message function
Voice recording function
Talkgroup Scan
Priority Interrupt Calling
What's in the box:
1 Radio: SAT100M Radio
1 Multi-functional Speaker Microphone
1 DC Power Cable
1 LAN Cable (65ft)
1 Antenna Unit
1 Set of Mounting Hardware
1 Owner's Manual


General Features
Frequency Band(s)
Does not apply
# of Channels & Zones
15 Talk Groups (Max)
Output Power
N/A
Weight (with battery)
Display
Yes
# of Programmable Keys
2
Full 16-Key Keypad
No
IP Rating (Water & Dust)
Antenna rated IP67
Receiving Audio Output
1500mW
Digital
Yes
Trunking Capable
With the VE-PG4 RoIP gateway, the IC-SAT100M can interconnect with IDAS digital Type-D multi-site trunking and conventional systems and analog transceivers.
Voice Scrambler | Encryption
Yes, AES encryption
Other
Built-in Bluetooth & GPS, Voice recording
Radio Programming Options
The following does not apply to FRS, MURS, GMRS, LTE, Satellite, or IP radios.

Most business radios aren't ready to use out-of-the-box. So radio programming is needed to set the frequencies in the radio. For some radios the frequencies can be set through a menu interface. While other radios must be programmed using a PC, radio software, and a cable to connect the radios.

Here are your programming options:
We can program your radios - with radio orders
We provide basic radio programming for radios ordered through us. See the description below of basic radio programming.
Email us your Frequencies & Call Sign - the FCC requires dealers to verify your license before we program.
Please allow 1-2 days for first-time setup of radio programming.
Due to staffing limitations, we are not able to program radios purchased from other dealers.
Match to your Previous Order
If you've ordered from us before we have your information stored.
You can program the radio(s)
Connect Systems (all models): You can purchase software and cables from us.
Kenwood ProTalk Business Radios (NX-P1300/NX-P1200 series, TK series, PKT)

Have pre-stored frequencies and you can easily program these radios through the radio's menu interface.
Custom frequencies will require dealer programming.

Icom (all models): Icom no longer allows dealers to sell software and cables over the internet. You may call us to discuss your options.
Motorola Business Radios (models beginning with CLP. CLS, RM, RD):

Have pre-stored business frequencies (Part 90). Software to program these radios is available on the Motorola website.
Just go to the product page on Motorola's website and you can download it for free. We can sell you the cable.
Custom frequencies will require dealer programming.

Motorola Commercial Radios (models beginning with CP, CM, MagOne):

Software to program these can be purchased directly from Motorola. We can sell you the cable.

Vertex Standard Radios: You can purchase software and cables from us. (some cables have been discontinued)
If you don't have a FCC license we can help you apply for one.
These licenses are for businesses, non-profit organizations, local and state government agencies.
We do all the work! Give us a call at 855-289-2929.

What is included in Basic Radio Programming?
Basic radio programming is designed to get you up and running with a configuration which includes:
Up to 16 channels programmed to your FCC assigned frequencies (simplex or duplex)
A default configuration of key functions
Your program settings saved for future purchases
No password protection to allow re-programming by another person
For customers who already have radios we will match from your existing radio of the same model (requires you to send us a radio).

Programming Services Not Included:
At this time we do not provide programming of advanced features. The features below are NOT included with basic programming.
Programming radios purchased elsewhere

More Than 16 Channels
Channel Scan / Priority Scan
Encryption
Signal Tones (DTMF, 5-Tone, 2-Tone)

Private (1 to 1) calling
Group 1 to many calling
All Call
Emergency System
Man Down System
Lone Worker
Advanced Audio Profiles
Dual Capacity Direct Mode
Voice Announcement
Text Messaging
Work Order Ticketing
ARTS
Remote Monitor
Telephone Interconnect
* This does not include all advanced features and should only be used to establish an example of what features are considered advanced.