ICOM SAT100 Satellite Radio
True World-wide Communication even in the most remote areas

Built-in Bluetooth and GPS Receiver
1500mW Powerful Audio

Highest Security with AES Encryption
Vibration Alert
Waterproof in accordance with IPX7
Compatible with other Iridium® PTT devices
ICOM SAT100 At-A-Glance
Icom's IC-SAT100 allows users around the world to communicate with a group of PTT radios at the push of a button. To do this, the IC-SAT100 utilizes Iridium® satellite network covering the earth including both poles providing wide area global communication anywhere on the planet.
Icom's IC-SAT100 radios uses SATELLITE PTT (Push-To-Talk), which is a two-way radio system using the Iridium® satellite network. This network allows you to use the IC-SAT100 in remote, isolated areas without mobile phones or landline network infrastructure or if terrestrial network infrastructure is rendered unusable by human or natural disasters.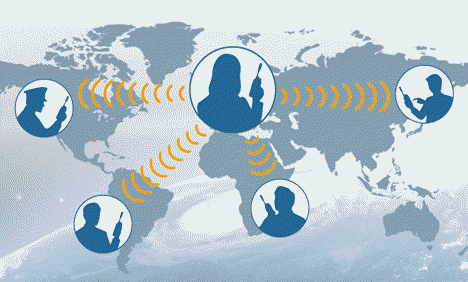 1-to-Many Global Communications
Unlike satellite phones, IC-SAT100 users can immediately start talking to all the radios in the same talkgroup, with just a push of the transmit (PTT) button.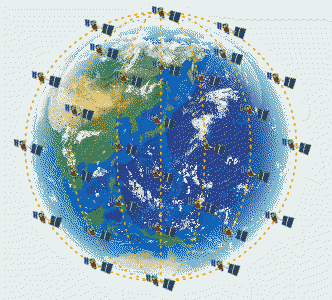 World-Wide Coverage with Iridium® Satellites
Using 66 Low Earth Orbit (LEO) Iridium® satellites, the IC-SAT100 provides low-latency communication, and broader, more reliable network coverage, compared to Geosynchronous Equatorial Orbit (GEO) satellites.
The Iridium® satellite network covers the entire earth, including both poles, and can provide wide area global communications anywhere on the planet*.
* Depending on the country or region, carrying and/or use of the IC-SAT100 may be prohibited.
Emergency Call Function
The 'Orange' key on the top of the radio is an emergency button. You can transmit an emergency call via a specific talk group by pushing and holding down the button, just like a PMR/LMR radio system.
Waterproof, Dust-Tight & Durable Body
The IC-SAT100 provides IP67 waterproofing (1 m depth of water for 30 minutes) and dust-tight protection, making it ideal for use in harsh outdoor environments. The radio also meets MIL-STD 810G specifications. The operating temperature range is from –30°C to +60°C (–22 °F to 140 °F).
Secure Communications
The IC-SAT100 provides one of the highest levels of secure conversations with AES 256-bit encryption.

1500 mW Powerful Audio
1500 mW audio delivered from the internal speaker provides loud and clear communication, even in noisy environments.
Long Lasting Battery Life
The supplied BP-300 Li-ion battery pack provides 14.5 hours of operation.
* Approximate. Operating periods are calculated under the following conditions. TX : RX : standby = 5 : 5 : 90
Conventional Radios & IP Phones Interconnection
With a VE-PG4 RoIP gateway, the IC-SAT100 can interconnect with an IP phone, IP, LTE, IDAS digital* and analog transceivers. (Planned feature)
*Type-D multi-site trunking and conventional systems.
SAT100 Iridium Satellite Service Plans

Service is configured through Iridium Command Center
Basic Service Plans

Talk Group Coverage

You determine the coverage areas for each SAT100 radio by defining the Talk Groups for each unit.

15 Talk Groups maximum per radio.

The Talk Group's size can be changed at anytime utilizing the Iridium Command Center.
The coverage area's configuration is dynamic and can be reconfigured quickly with access to the Iridium Command Center Web Page.

No restrictions of the Talk Group's location. * some restrictions in areas due to national security interests

The region with a rectangle must have sides between 150 km, and 1500 km.
The region with a circle must be larger than 75 km.
Each Talk Group can be subdivided into a maximum of 10 regions.
Talk Groups can be a circle, oval, square, or rectangle.
Talk Groups not to exceed the area of the purchased package.
Talk Group Sizes & Plans: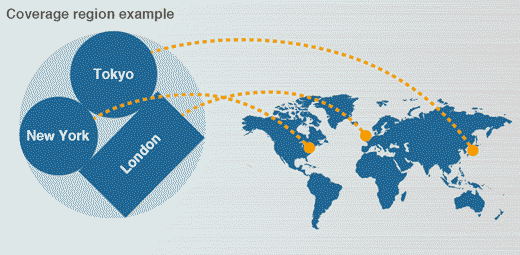 SAT100 Other Features
Ready for harsh environments. Water, shock, dust proof with MIL-STD 810G & IP67 waterproof rating
Operates 100% of the globe
Built-in emergency key
Short Data Message function
Voice recording function
Talkgroup Scan
Priority Interrupt Calling
What's in the box:
1 Radio: SAT100 Radio
1 Antenna
1 BP-300 Battery Pack - 2350mAh
1 Belt Clip
1 Owner's Manual
1 Rapid Charger
General Features
Frequency Band(s)
Does not apply
# of Channels & Zones
15 Talk Groups (Max)
Output Power
N/A
Weight (with battery)
12.7 oz (with BP-300 and antenna)
Display
Yes
# of Programmable Keys
2
Full 16-Key Keypad
No
IP Rating (Water & Dust)
IP67, Submersible for 30 minutes to a depth of 1 meter
Receiving Audio Output
1500mW
Digital
Yes
Trunking Capable
With the VE-PG4 RoIP gateway, the IC-SAT100 can interconnect with IDAS digital Type-D multi-site trunking and conventional systems and analog transceivers.
Voice Scrambler | Encryption
Yes, AES encryption
Other