Icom Software Guide
Icom Software Guide
Icom programming software allows users to set frequencies and functions within their Icom radios. Also know as Icom Cloning Software, this software runs on your PC under the Windows Operating System.
You can:
set each channel's frequency and privacy codes

set functions for each programmable key

set parameters such as the Time-Out-Timer, and other functions

save the settings and program multiple radios
You may download your software immediately after ordering.
Warning Be advised, serious penalties and prosecution can result from the unlicensed transmission on frequencies and equipment which require a license. Land Mobile Radios (LMR) require an FCC license to operate. Need help? Let us do the work... FCC Licensing Help


Icom Programming Software Guide
The guide below outlines which Icom programming software is needed for each radio model, and the associated programming cable to use. We provide downloadable copies of Icom programming software for all Icom land mobile radios.
Icom Cloning Cables - Please Read
Cables with a "B", can be used on Windows 10, 8, 7, Vista, and XP drivers.
Cables NOT marked "B" can only be used on Windows 7 or earlier.


* USB type connectors are used on most current models of PCs. RS-232C is a connector type used on older PC models. To understand which type of connector your PC has please consult your PC Users Manual.
¹ NOTE: be sure the USB-to-micro-USB cable is capable of transferring data. Some USB cables are for charging only. If a cable is capable of transferring data, it will appear on the computer in Device Manager/Ports when it is connected to the radio (powered on).
F9011, F9021, F9511, F9521, F9511HT Software and Firmware Compatibility
**NOTE: See table below for CS-F9010 firmware & Software compatability.
Warning Applicable Models: F9011, F9021, F9511, F9521, F9511HT. Loading 3.1.X or Greater Firmware in older Radios with 3.0.X Firmware will remove the P25 Trunking capability from the Radio. The radio will only work in P25 Conventional mode after updating to 3.1.X or greater unless the Trunking update ISL-3 is purchased and installed.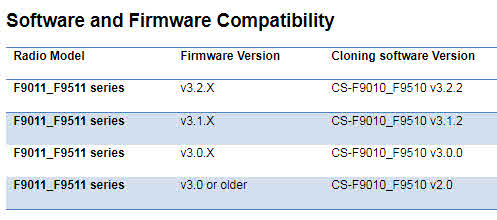 To check your firmware on the F9011, F9021, F9511, F9521, F9511HT:
1. Press and hold the Up Arrow and P3.
2. Switch the power on.
The display will show the firmware version.
Icom Airband and Marine radio guides coming soon....
Icom Software Guide | Icom Programming Software Guide © Quality two-Way Radios | Icom Radio
by Quality Two-Way Radios